Compatibility
Palm Encoding Setup is compatible with Apple iSync, Palm Desktop, Microsoft Entourage, Mark/Space Notebook (or the older MemoPad) and other Missing Sync conduits and independent on your synchronization software (HotSync or Missing Sync for Palm OS). It allows correct transfer of data containing national characters between all applications supported by this software, for example names and addresses (Address Book) or memos (Memo Pad) in your language.
The application is compatible with all common encodings (Central European, Romanian, Baltic, Cyrillic, Greek, Turkish, Arabic, Hebrew, Traditional and Simplified Chinese, Japanese, Korean, Thai and Unicode see details), which are used in software localizations for Palm OS handheld computers. PDAs with other operating systems (Windows Mobile, used by Palm Treo 800w, or WebOS, used by Palm Pre) are not supported.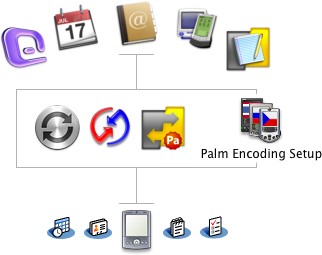 Reliability
Once the application changes the encoding, which the synchronization software uses, it does not interfere with the synchronization itself or the functioning of the system. Therefore it doesn't affect the performance or stability of the system.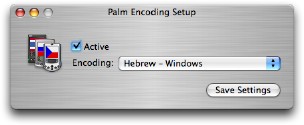 Simplicity
Palm Encoding Setup is very easy to use. You receive a manual with the application, which will guide you through the installation and first synchronization. The following synchronizations will run as usual. The manual also contains solutions for possible problems and will help you choose a localization for your Palm (some are free) if you do not yet have one.
What Users Say
Amazing. I wish Apple had done this years ago!!! (I wrote them many times requesting that they fix this and telling them what was needed - but they never responded.) -- Anonymous review from MacUpdate
Thank you for the very useful app. It should have been Apple/PalmOne's duty. -- A. T., Clié user, Hong Kong
The software worked as described. Received fantastic email support from the author. Apart from the fact that this is the only solution to iSync's foreign language problem, it really is a nice implementation at a fair price. -- "Whytoi", China

Everyone who purchased a copy of Palm Encoding Setup, contributed one dollar to the Schools for Africa project organized by Člověk v tísni (People in Need), a Czech charity organization. The collected funds helped build elementary schools in Ethiopia, where less than half of the children can attend schools. (See more infomation in Czech and English.) Thank you.

News 2011/8/22 (Palm Encoding Setup and Palm Doc Converter applications discontinued.)
I do not plan to release any updates for Palm Encoding Setup and Palm Doc Converter. Both applications can now be dowloaded and used for free, and both still work on the current version of Mac OS X.

Now seems to be a good time to do this as Palm OS is effectively outdated by two generations (Palm OS and webOS). It's kind of sad to see another great mobile UI created by Palm go.

Download version 1.9.23, Universal Binary (482 KB)

System Requirements
Mac OS X 10.4.x or later.
A Palm OS PDA. Windows Mobile or webOS PDAs made by Palm, such as Treo 800w or Palm Pre are not supported.


Download
After downloading, you can check if application detects your synchronization software and supports your encoding. The software is now discontinued and you can use it for free with the following activation code:

0G7G0G4X

Download version 1.9.23 (482 KB)

Free E-book Solution
For the solution to be complete, we have developed an independent freely distributed application Palm Doc Converter, thanks to which you can convert, create and edit electronic books for the Palm in an encoding of your choice.
Download version 1.9.5 (699 KB)

Support
The software is now discontinued and you can use it for free with the following activation code:

0G7G0G4X