Attachment Tamer
Take control of email attachments on Mac!
Note: OS X 10.10 Yosemite (released October 16) is not supported yet, but work on Yosemite compatibility is under way and you can expect a pre-release soon!
Attachment Tamer gives you control over attachment handling in Apple Mail. It fixes the most annoying Apple Mail flaws, ensures compatibility with other email software, and allows you to set up how attachments are displayed and sent.
Attachment Tamer can
display (and print) images, PDFs, audio and video as icons with an optional file size limit and exceptions;
send messages compatible with Microsoft Outlook, Exchange and other software, preventing the superfluous "ATT0001" attachments;
send images as regular attachments, making it easier for the recipient to manipulate the image files;
send images embedded in HTML layout and safely mix embedded images with other attachments;
display full attachment names regardless of length instead of truncated names;
prevent unwanted image resizing or set a default size for automatic image resizing.
Here's the gist of some of the basic features: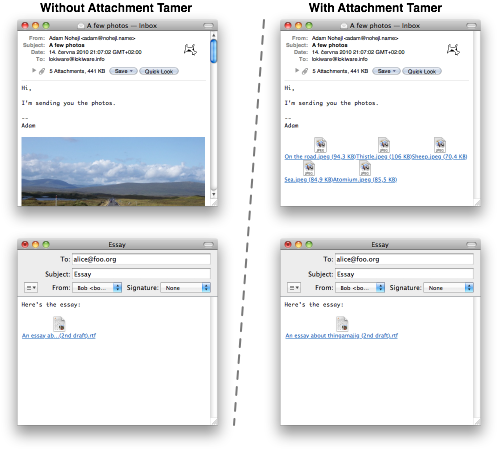 After a one-click installation, Attachment Tamer's settings show up as a new preference pane in Mail's preferences: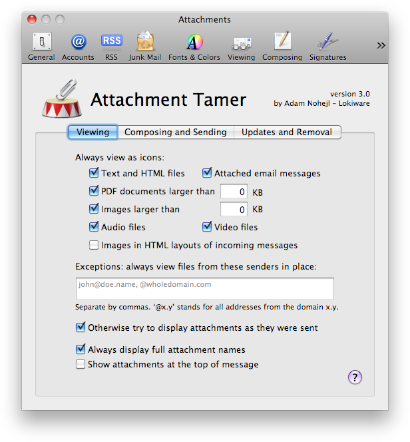 Feel free to download and try Attachment Tamer before buying, or browse the online help for more information.
Requirements and Compatibility
Note: OS X 10.10 Yosemite (released October 16) is not supported yet, but work on Yosemite compatibility is under way and you can expect a pre-release soon!
This plug-in requires at least Mac OS X 10.6 "Snow Leopard" and is fully compatible with more recent releases including OS X 10.8 "Mountain Lion".
If you use Mac OS X 10.5.x "Leopard" or 10.4.x "Tiger" and cannot install the current version because of that, download instead this older version for Leopard or this one for Tiger. Note, however, that no more updates for Mac OS X 10.4.x or 10.5.x will be released. The outdated downloads are provided only as a temporary solution for those who cannot upgrade to a more recent release of Mac OS X and they are no longer supported. A free registration code for the Leopard version is included in the download, for the older Tiger version it is: 8A419E1A.
News 2014/9/18: v3.1.14b9
Pre-release build for OS X Mavericks: compatibility with the OS X 10.9.5 (Mail 7.3 and Message 7.3) and new Apple security requirements to the same extent as previous pre-release builds.
Download
Works both as a trial version and as a free update for registered users (including owners of Mail Attachments Iconizer):
Download v3.1.13 (2 MB)
Download v3.1.14b9 pre-release for OS X Mavericks (2 MB)
Purchase
Attachment Tamer currently does not support OS X Yosemite, so licenses are not available for purchase. I will provide more information soon. Thank you for your patience!
Works great with:

Letter Opener converts Microsoft Outlook's winmail.dat files on the fly, so you can actually see and use what the sender intended you to have.
More Mail plug-ins
Here's a handlist of plug-ins from other developers devoted to enhancing your email experience!