Lokiware – Adam Nohejl
Mac OS X Software
Take control of email attachments! (formerly Mail Attachments Iconizer)
Attachment Tamer gives you control over attachment handling in Apple Mail. It fixes the most annoying Apple Mail flaws, ensures compatibility with other email software, and allows you to set up how attachments are displayed and sent.
PixelColorOSAX 1.0.2
free (BSDL)
PixelColorOSAX is an open source scripting addition that allows you to get color value of screen pixels in AppleScript. It supports Mac OS X 10.5.x–10.7.x (any CPU architecture).
Keyboard Layouts Czech and Slovak by Loki 3.1
free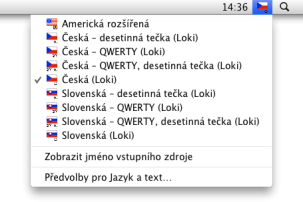 Alternative versions of the Czech and Slovak keyboard layouts. — More info in Czech…
Synchronize your Palm and Mac with full support for national characters!
Do you write on the Mac and the Palm in your language and need your data to be transferred correctly? Does your Palm display "<String is unprintable>" instead of important information? Would you like to read text from your Mac on your Palm?
With Palm Encoding Setup and Palm Doc Converter you will finally be able to correctly synchronize data with national characters between your Palm and Mac.
Convert text to Palm Doc, convert Palm Doc to your encoding.
Read text files from your computer on your Palm.
Using this freeware application you can convert electronic books between the Palm Doc format and common text formats (.txt, .rtf, .doc and other) with support for national encodings and Unicode. This way you can read text files from your computer on your Palm with full support for national characters.
The application will also enable you to open Palm Doc documents in nearly any text editor which supports filters or services (for example TextEdit) as well as save Palm Doc from these applications.
Supports plain text, .rtf(d), MS Word .doc, Palm Doc in all common encodings including Uncicode (can automatically. The application is capable of guessing the encoding of the source file.
Gomoku 1.4.3
free (GPL)

Download (628 KB)
The best Gomoku for Mac OS X;). Gomoku is a traditional Japanese game resembling tic-tac-toe, the simplicity of rules is preserved, but it's much more complex. It's variants are known under names Renju and Pente or just "five in row".
Bugs from version 1.4.2 fixed and computer doesn't make stupid mistakes anymore (highest level).
Smart Clipboard 1.1
free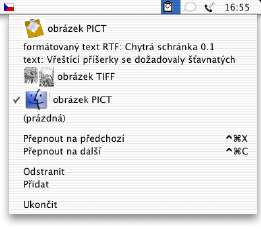 Free clipboard manager for Mac OS. The basic functionality is working with an unlimited number of clipboards. Previews of the clipboards are displayed in a menu, you can manipulate with the clibpoards using user-defined keyboard shortcuts.
Application has been created as an alternative to popular but expensive software like Clipboard Manager or iClip.
CGFractal 0.1
free (GPL)

Download (124 KB)
First release of native Mac OS X version of Marko Riedel's GFractal. Application computes several different fractals including the Mandelbrot set. It's nice and includes source code;).